I know it's long, but I'm fairly certain this is the most in depth write up with the most information out there, so bear with me.
I ask that if anything is unclear or I have some bad information in this thread, please let me know kindly and I will be sure to edit it :thumbsup: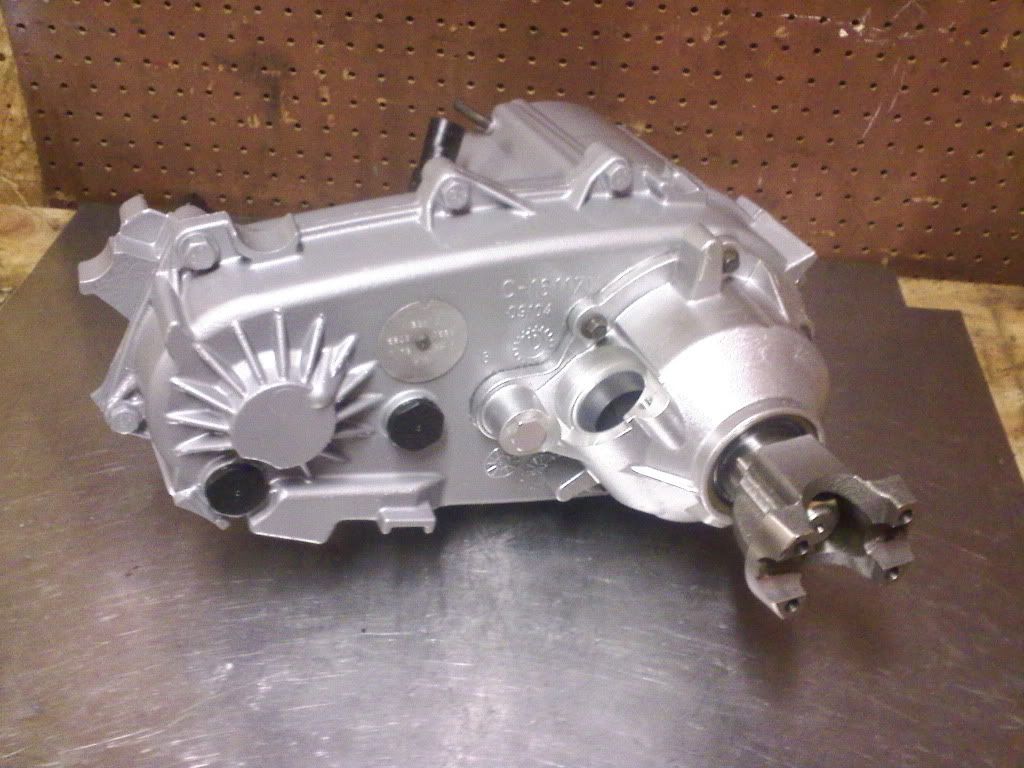 Why Swap Transfer Cases?
If you're here, you probably have a ZJ with a 249 (full time) transfer case and you are experiencing issues such as hopping around turns, tire screeching, uneven tire wear, and possibly much worse issues. The main cause for these problems? The vicious coupler (a sealed unit with steel clutch plates submersed in a vicious fluid) has reached the end of it's service life (typically 150,000 miles or so). Contrary to popular belief, the 249 is NOT "junk", nor is it a "bad" transfer case. It is actually very durable and it's AWD performance is excellent even with today's standards with a properly working VC.
So why swap if you could just replace the VC? Good question. As you may already know, the VC itself is very expensive. Many don't like the fact they are stuck in 4 wheel drive, and the inability to lock the front and rear axles together in 4 low with the early 249 is a deal breaker for many.
If those things aren't a deal breaker for you, replacing your VC and giving new life to your 249 is a good option, but for most of us, we're more inclined to swap. Here's a quick run down on the three ZJ transfer cases:
NP231: Part time transfer case used commonly in XJ's, YJ's, TJ's, ZJ's, etc. It offers 2wd, 4 part time, and 4 low.
NP242: Full time transfer case used in XJ's and ZJ's. 2wd, 4 part time, 4 full time, and 4 low. The 4 full time feature is unique from the NP249 as it does not use a vicious coupler (what goes bad in the 249), but instead a mechanism that operates similar to an open differential.
NP249: Full time transfer case used exclusively in 93-98 ZJ Grand Cherokees with 4 full time and 4 low. The 249 utilizes a vicious coupler used in conjunction with the center differential found in the 242. This makes for very efficient, and very effective full time operation. 93-95 lack the ability to lock the center differential in 4 low, while a revised version in 96 changed this.
Input Shafts and Gear Cuts
There are 3 different input shafts, .750", .840", and 1.55", as well as both 21 and 23 spline shafts. All ZJ transfer cases have a 23 spline input shaft, and all 92-01 XJ's have a 23 spline input shaft. 91 and older XJ's have the 21 spline input.
Here's a general rule of thumb when determining your input shaft length. This is not always 100% accurate, so make sure you know what you have before buying a transfer case.
93-95 V8 ZJ's: 46RH transmission, 1.55" 23 spline input shaft
93-95 I6 ZJ's with the 42RE: .840" 23 spline input (with collar)
93 I6 ZJ's with the AW4 or AX15: .750" 23 spline input
All 96-98 ZJ's: .840" 23 spline input
All 96-01 XJ's: .840" 23 spline input
92-95 XJ's: .750" 23 spline input
91 and older XJ's: .750" 21 spline input
Here's a good visual for those of you unsure of the different input lengths. From the left, I have a 1.55" input from a 249, a .840" input from a 231, and finally a .750" input from a 242. They are all 23 spline shafts with the old style gear cut and they are all three interchangeable between each case.
A word of caution to those who attempt installing a .750" input in place of a .840" input: If you look closely at the center (.840") input, you'll see the upper most wear ring on the input. This is where the transmission output seal rides on the input shaft. As you can see, it's not very far from the edge of the shaft (approximately 3/10ths of an inch). If you attempt this swap, I recommend sealing the transmission and transfer case surfaces with Ultra Black or Gray RTV. I recommend this if your rig sees any deep mud or water anyways to keep sediment from ruining the transfer case and transmission seals.
Your best bet is to find a transfer case with the same input shaft. If not, you can swap input shafts, but be aware of the annulus gear cut change that occurred in mid 94. The different gear cuts are easily identified when compared, the late style teeth are much more pointed than the early style and the late style uses a much more narrow bearing.
It's best to go by the build date on the transfer case, not the year of the Jeep when determining the gear pitch. Rule of thumb is cases with a build date of pre 94.5 will have the old style gear cut, and cases with a build date of post 94.5 will have the new style gear cut.
The front bearing width was also changed from a wide (24mm) to a narrow (16mm) bearing along with the new gear cut... Keep that in mind when purchasing a rebuild kit if you're doing a front case swap.
Here's two 1.55" long input shafts. The one on the left is the late gear cut with a 16mm input bearing, and the one on the right is the early gear cut with a 24mm input bearing:
One other issue I've run into: 93-95 ZJ 231 and 242's with the .840 input have a metal collar pressed into the input shaft that mates to the bevel at the end of the transmission output shaft. 96+ transmissions do not have this bevel, meaning it is required to remove the input and either swap it, or you can easily take a deep well socket and tap the collar out along with the main shaft bearing. Reinstall the main shaft bearing into the input, making sure it is fully seated and that is the extent of the fix.
Transfer Case Identification
New Process/New Venture cases utilize very easy to read tags located on the rear case half, just above and to the right of the fill plug. The first three numbers represent the model, with the letter proceeding it indicating the make of the application. An NP242 from a Jeep would simply read "242j".
The correct way to read the date is just how it looks. Month, day, year. So if your case says 8 15 92 1, That would be August 15th, 1992. Most manufacturers aren't this specific on the manufacturing date which would lead you to believe "1" would be January, 1992, however the last number is insignificant.
My personal experience is that a long input 249 with a build date of 7/94 still used the old style gear cut, and a long input 249 with a build date of 1/95 used the new style gear cut.
Front Case Swap
If you're swapping a 242, you can do what is referred to as a front case swap if you're in a bind with two different gear cuts (no pun intended.) The 242 and 249 both share the same front case half, meaning you use all the parts from the 242, with the exception of the 249 input, 249 planetary set, and 249 front case half. You will need to drill an access hole for the mode fork roll pin. This swap would be ideal if you happen to have a late cut 242 and want to swap in an early cut input shaft for example.
Drive Shafts
While there are several different length drive shafts used though the years, the physical dimensions of the 231, 242, and 249 are very similar. The overall length of each case is within + or - 1/4" of each other, per slip yoke configuration. There are two different slip yoke styles used for the rear drive shaft: Internal and external slip yokes. They are easy to decipher from one another as, well, one has an internal shaft with a tail cone and the other has an external shaft with a dust boot. The external slip yoke is generally found in 96 or newer Jeeps while the internal slip yoke is found in older Jeeps. There is really no huge advantage to either style, however I like how the drive shaft splines are always submerged in ATF in the internal slip yoke case.
The biggest difference between the two is that the external slip yoke case is about 1.5" longer than an ISY case, meaning if you replace your ISY 249 with an ESY 242 for example, you will have to cut and balance your rear drive shaft or have the drive shaft from the donor Jeep on hand.
231/242 Linkage
This is optional. From the factory, the linkage that connects the transfer case to the pivot arm is about 2" shorter on the 231 and 242. If you can easily source the linkage, I recommend it. If not, don't concern yourself with it because you can easily adjust the shifter assembly to make due with the 249 linkage, which we will cover later. You do however NEED the shift tab from the transfer case you are swapping in, the long tab on the 249 will not work.
231/242 Shift Indicator Sensor
The NP249 sensor WILL NOT work in the 231, as the threaded portion is about 3 times longer. I attempted to shim it to no avail. You can however use the 249 sensor in a 242 case. XJ cases do not have the proper provision to have a fully functional VIC, however you can use the 4wd switch on the XJ to show "part time" when in 4wd.
New Seals
Cheap insurance if you're doing a transfer case swap.
Here's the part numbers for National brand seals from Advance Auto Parts:
NP242/231 rear output seal: 4370N
NP242 front output seal: 3946
NP231 front output seal: 710046
NP242/231 input shaft seal: 3173 (single lip)
NP242/231 input shaft seal: 710928 (dual lip, VERY nice seal!)
46RH, 42RE, 44RE, and 46RE transmission output seal (also known as rear seal): 710058