This thread is getting a bit long so for those that don't have the time to burn here's a quick summary of the current status:
Suspension: Clayton long-arm; 5.5" lift; Bilstein shocks; RE extreme-duty track bar; Currie steering​
Powertrain: 5.2 V8; NP242 w/ SYE; Iron D44 rear w/ Detroit locker & alloy shafts; HPD30 front w/ Tru-Trac; 4.56 gears; Solid diff covers; Tom Wood's driveshafts​
Misc: 265-75R16 BFG KM's; Pro-Comp 7073 wheels; skid plates; Aero muffler w/ custom tailpipe; Hanson bumpers​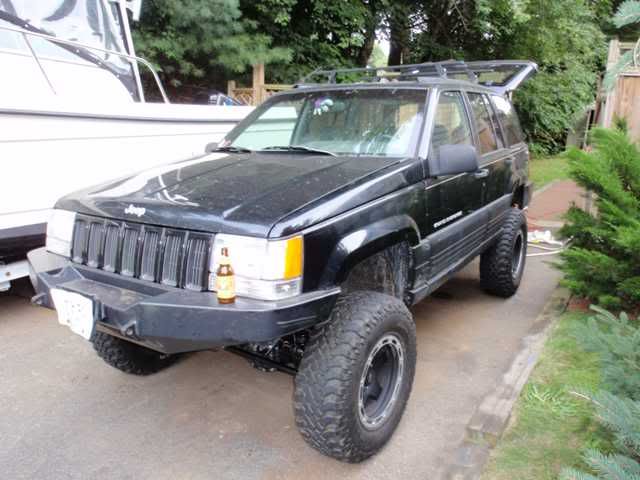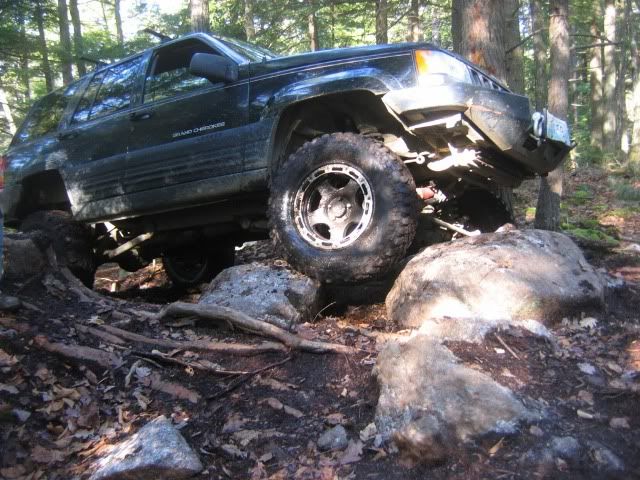 In the works: Rocker replacement, winch, NP231, Swampers
--------------------------------------------------------------------------------
Finally getting around to posting some pics and details about my Grand Cherokee ZJ.
First, the basics. It's a 1996 Grand Cherokee Laredo that I purchased in '98 with about 33,000 miles. The vehicle was a lease that the original 'owner' turned in early. I picked it up in virtually showroom condition for $22,000. It came with a 5.2L V8, Quadra-Trac (NP 249), Infinity sound system, and overhead console. For the first 5 years the vehicle was my daily driver and remained 100% stock. During this time I did a fair amount of off-roading but mostly fire roads and sand, very limited rock crawling and mud. Here's a pic of the stock vehicle:
The following pic shows what can happen if you park too close to the train tracks. I was visiting some old college buddies up in northern Maine and arrived at their place late at night during a blizzard. I parked on the side of the road never realizing the tracks were there. In the morning I heard the train coming, blowing its whistle like crazy. I looked out the window just in time to see the railing on the locomotive scraping across the front end. This little mishap landed me on the evening news. The fix cost about $4,500 which thankfully was covered by insurance. If I had parked a few more inches closer to the tracks then I'm sure the vehicle would have been a total loss.
About 4 years ago I picked up a Mazda6 for my daily driver and kept the Jeep for camping, towing, and winter driving. At this time my Jeep had tallied just over 180,000 miles. The transmission and axles were showing their age so I installed a remanufactured transmission and rebuilt the axles to stock specifications (which, in retrospect, was a mistake). I wanted to get back into some more hard core wheeling after being out of the game for over 10 years so after a little research my first mod was a RE Budget Boost and 31-10.50R15 BFG All-Terrains on the stock wheels. I liked the look and the Jeep could definitely go places that would be tough at the stock height but in my opinion the handling degraded much more than it should have given the relatively mild amount of lift. In an attempt to improve the handling, I widened the track with 1-1/4" Spidertrax wheel spacers. The spacers did help the handling a bit and also kept the tires from rubbing the suspension when the steering was fully locked. In fairly short order I decided that the BB was not cutting it and upgraded to the RE 3.5" Super-Flex suspension. At this time I also installed a RE adjustable front track bar, Rancho RS9000X shocks, and a Borla cat-back exhaust system. Here's a pic with the RE 3.5" kit and BFG tires:
Overall, I have been satisfied with the RE kit. The on-road ride is acceptable, noticeably more stable than the BB, and the off-road capabilities are greatly enhanced over stock. The bolt-on rear track bar relocation bracket that comes with the kit is definitely a weak link. Within months of installing the kit I noticed that the bracket was cracking. Fortunately, I noticed this before it broke completely off on the trail. I welded the bracket on and had no problems since. If I had to do it over again, I would scrap the bracket and go with an adjustable rear track bar. I've found the front sway bar disconnects to be the other weak link in the RE kit. The disconnects that came with the kit (Gen 1) were always sloppy and difficult to use. Eventually they corroded and became impossible to use so I upgraded to the RE Gen2 disconnects. The Gen2 disconnects look impressive but the design is weak; in less than a year they were trashed. After some research, I went with the Tereflex disconnects which look to be about as bulletproof as they come. Here's a pic showing where the RE Gen2 disconnects failed:
Several months ago the viscous coupling in my transfer case started going bad so I began researching my options. This is when I first stumbled across NAGCA. Over the years I've grown attached to full-time 4WD. At the same time I was interested in having a 2WD option, primarily so that I could do donuts and smoke the tires. These requirements led me to go with the NP242 transfer case in place of the stock NP249. I scored a NP242 transfer case from a '99 Grand Cherokee from a local parts yard for $200 and rebuilt it using new bearings, chain, and a Tom Wood's slip yoke eliminator kit. I cannot speak highly enough about the quality of Tom Wood's products. Here's a couple pics of the transfer case in place: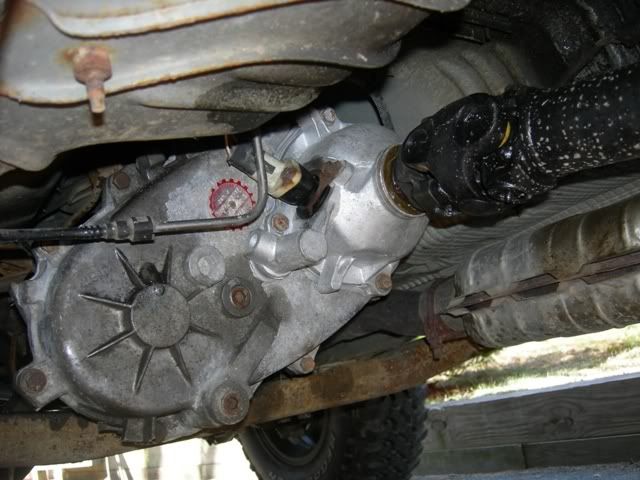 The project was supposed to end with the transfer case but after seeing all the rigs on NAGCA I could not stop. Before I knew what had come over me new bumpers and tires were on the way. I went with Hanson bumpers front and rear. These bumpers are not cheap but in my opinion they are the best looking ZJ bumpers out there. Actually, I guess I should say they
were
the best looking bumpers out there because the line is apparently being discontinued! I was talking with a guy at the shop and he said they are too difficult to manufacture. Judging from the Hanson web site it looks like all they have left in stock is the rear bumper w/o tire carrier. For tires, I went with 265-75R16 BFG Mud-Terrains on 16x8 Pro-Comp 7023 cast-blast alloy wheels. The 265's on wheels with 4" backspacing are a perfect fit for the 3.5" lift. With stock 3.73 gears the V8 has plenty of power to get this thing moving, there is no rubbing, and no trimming was required (although maybe the stock bumpers would have needed some trimming). Here's a pic comparing the stock tires, 31's, and 265's:
Here's some poser pics with everything bolted on: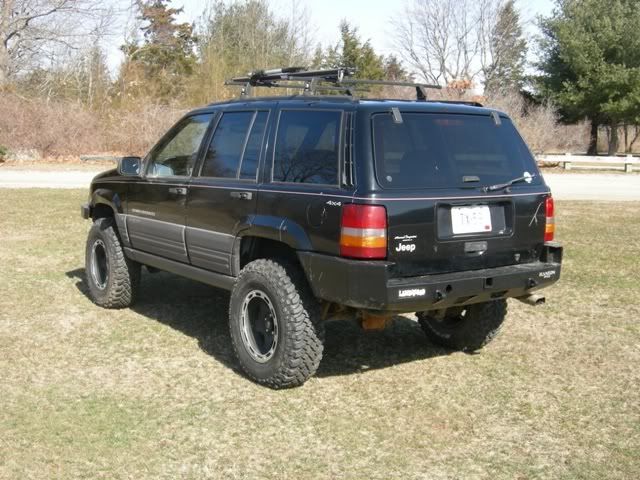 Here's some pics of a few trail scars that have been picked up along the way: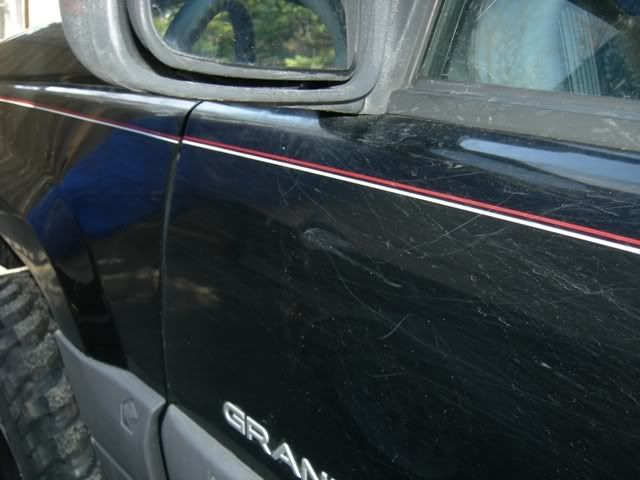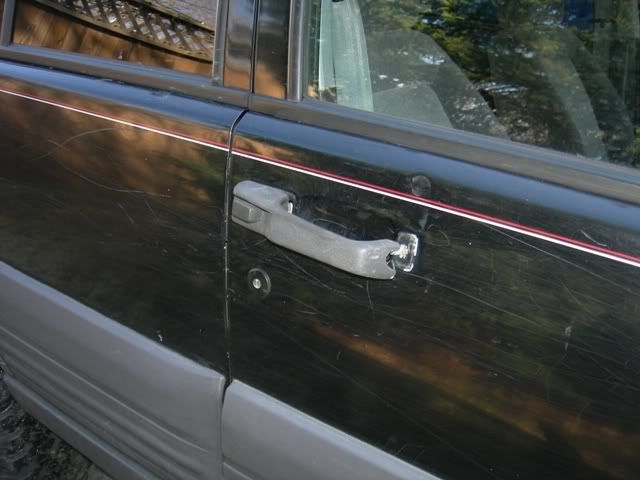 Here's some pics of the test drive with the NP242. Everything seemed to work fine in the driveway but when we got to the trail it would only shift into full-time. I opted to go for it anyways: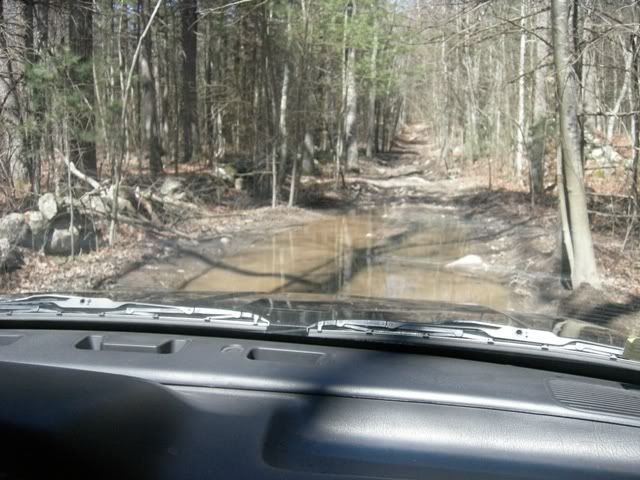 The saying used to be that a picture was worth a thousand words. Now that we have YouTube I guess a video is worth a hundred pictures:
http://www.youtube.com/watch?v=ijI92ehiEeA
http://www.youtube.com/watch?v=MwUEv9Mg8Es
As for future mods, I have plenty of ideas. The most immediate (after fixing the transfer case shifter problem) are to paint the side cladding black and get some rock rails. I'm leaning towards JCR Offroad for the rails. I've decided to stick with the Dana 30 front axle but I want to upgrade the shafts to 30 spline with Spicer-style u-joints, add a limited slip (probably Detroit Tru-Trac), and beef the steering (bent the stock components twice already). I've got less than 40,000 miles on the rebuilt rear axle but I want to scrap the aluminum housing and go with a real Dana 44 and Detroit Locker. Lastly, the original engine now has over 220,000 miles on it. Even though it still runs like a champ and does not use any oil I figure it cannot last forever so will be looking for a remanufactured engine, probably from Jasper.
Stay tuned!