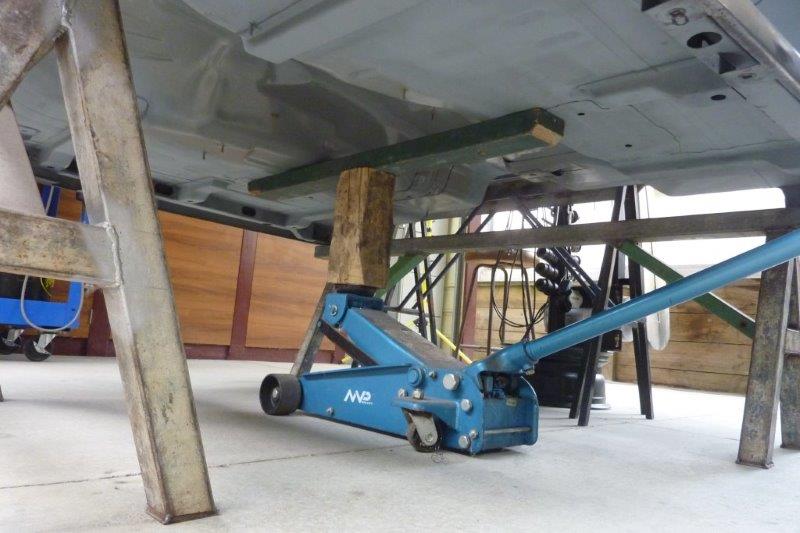 Big step in the build. Need to lift the cab off the trestles they have been tack welded too all this time. Just seeing where it balances.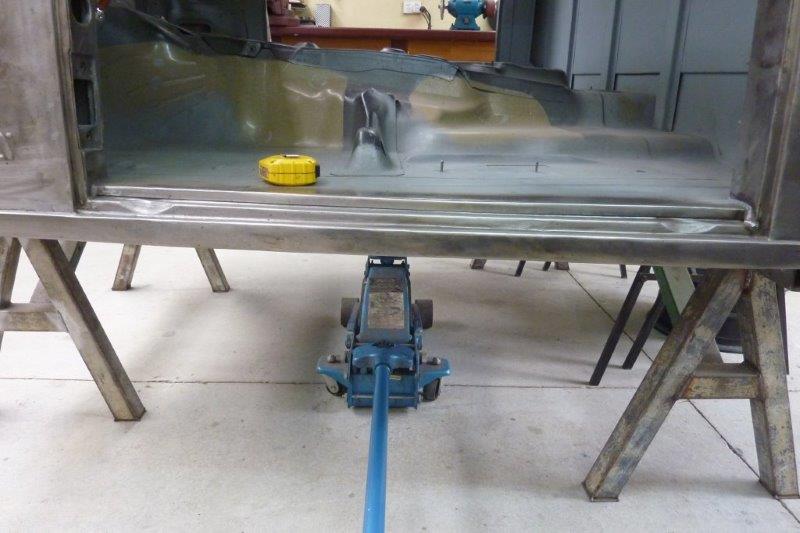 Balance point lines up just behind the front seat mounting bosses.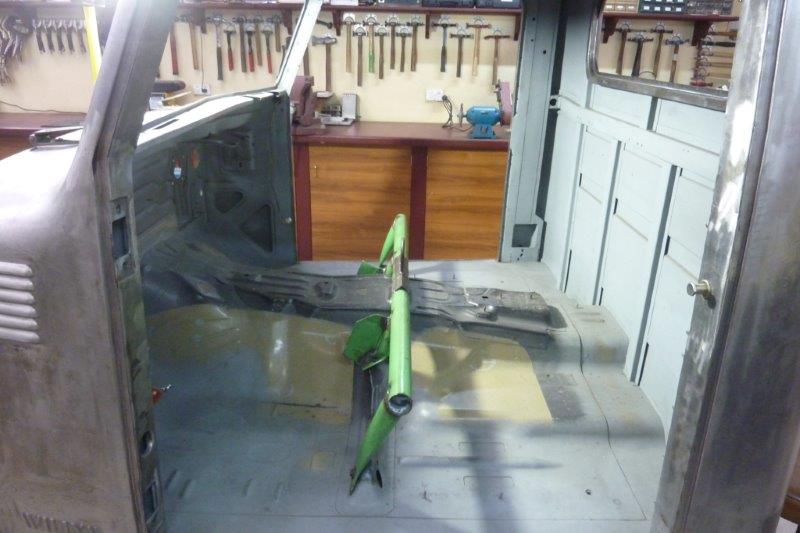 Neighbours had thrown out their children's swing set, so cut that up to use. I have spread the load over all four seat mounts just to be sure.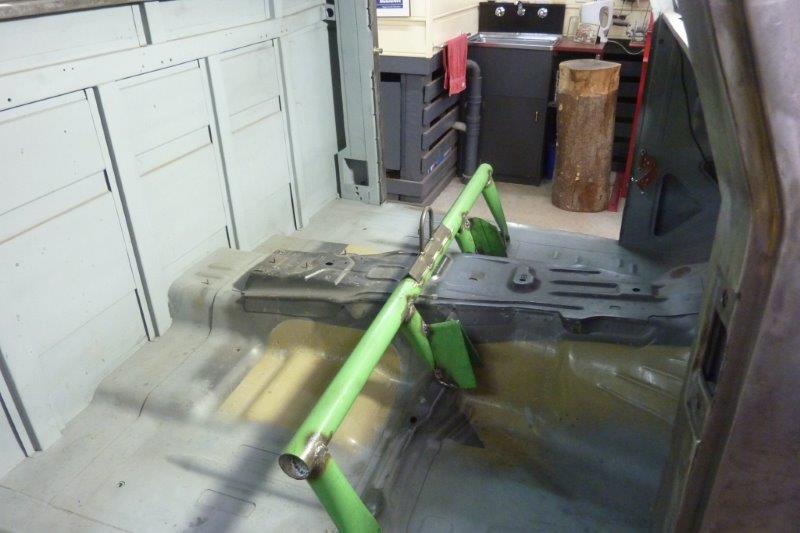 I have added braces to the two mounts closest to the tunnel to stop the thin walled tubing bending forwards with the load.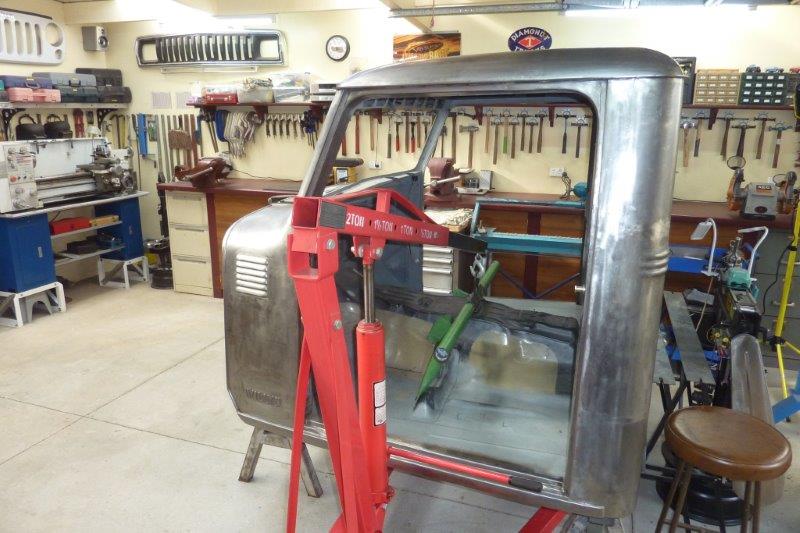 Lifting up from floor height gives the possibility for lifting up over the engine if needed with ease. Also no strain on the roof supports like lifting from above. Also will use this once fully painted as no risk to the paint work.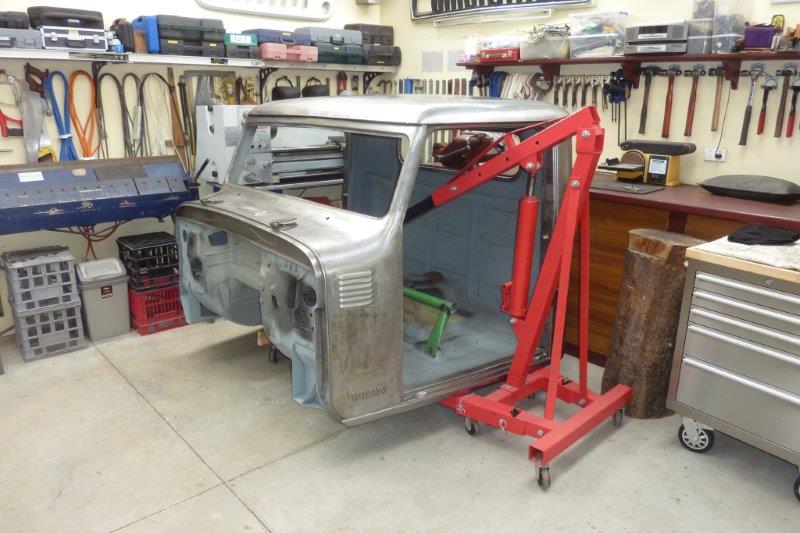 Once off the trestles, I easily balanced the cab with one hand while moving them out of the way with the other. Then lowered it down to the cranes base with some timber on it. Could then just push it over to the corner of the workshop.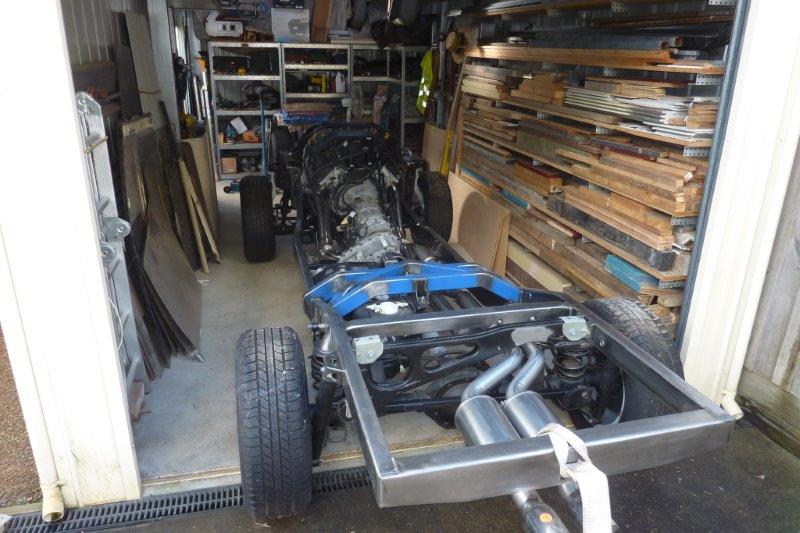 Look what is coming out of the garage! Been sitting in there since I finished it back in October 2013!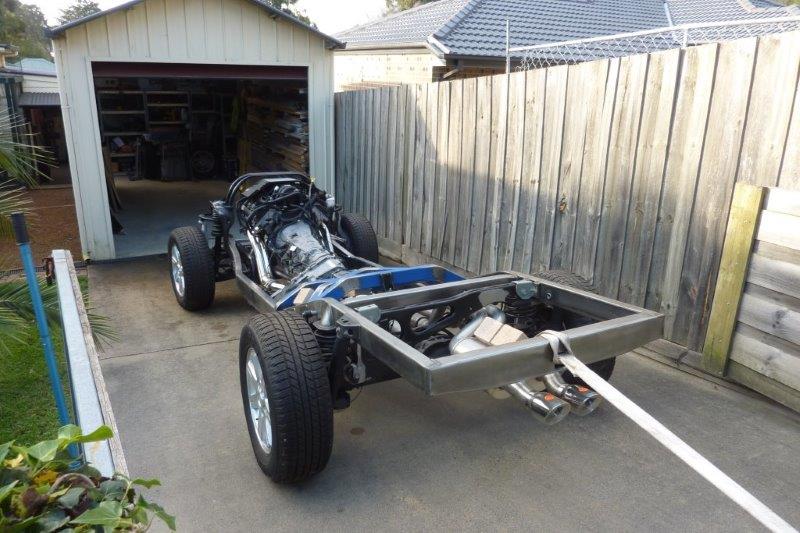 Only had it coated with lanolin and then old sheets over it. No plastic as that would cause a nice wet environment from condensation and I also had water occasionally flood in here too during bad storms!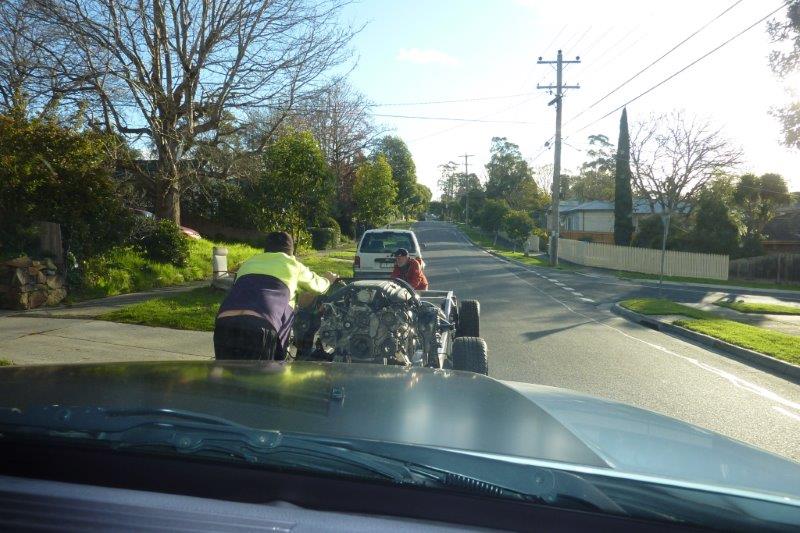 To get to my workshop I actually have to take a trip down the road and then into the side street entrance. Neighbours helping by pushing it. I got the father to drive the Jeep after this shot as I had it attached to it to stop a runaway once we got around the corner.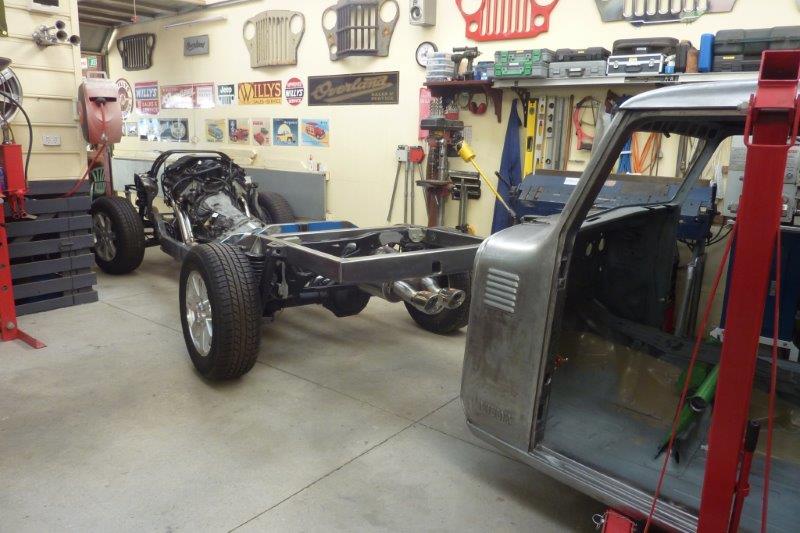 Pretty tight in here! Even on my own I just dragged the rear end around on a trolley jack to save dropping it onto my wheel dollies.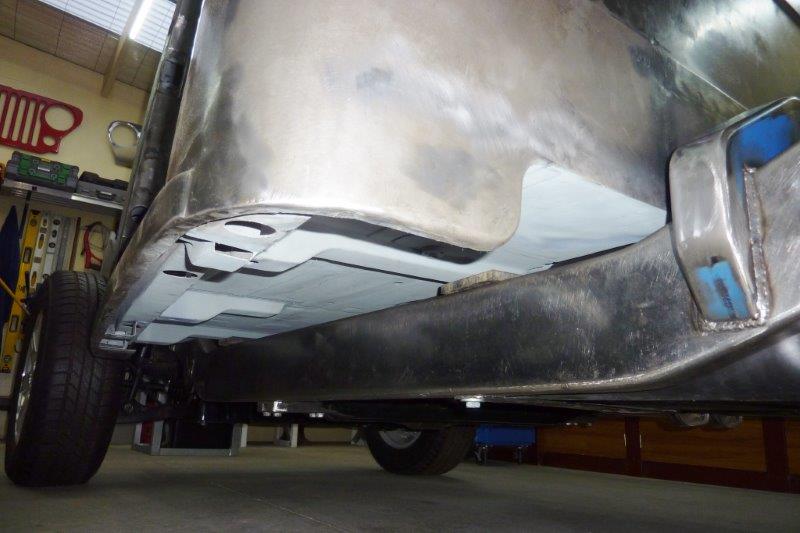 Had no problem on my own lifting the cab onto the chassis using the crane. I have it sitting on some 12mm plastic spacers to give me the clearance I want under the floor supports. This will reduce a bit once I build the chassis to cab mounts and it rests on rubber mounts and then tightened down.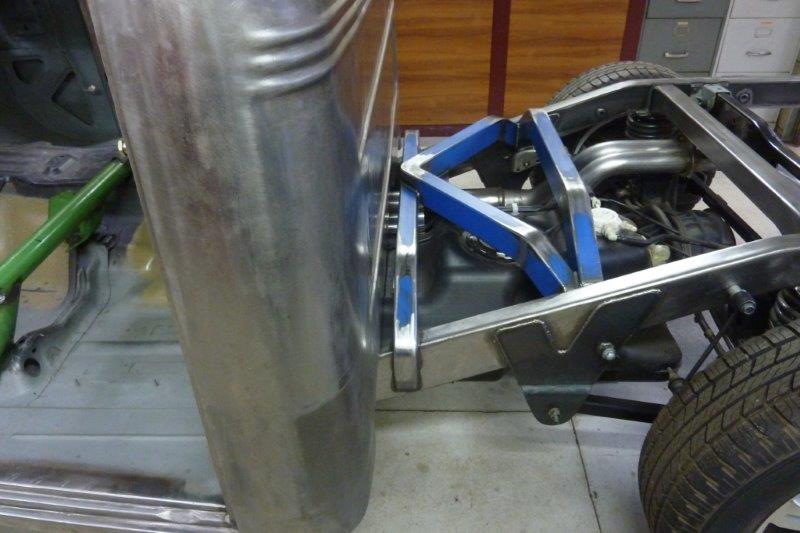 I had already one chassis mount made all those years ago in the center of the back wall. This is already bolted in with the rubber mount but not tightened down. That will happen after the rest are made so they are all at the same tension.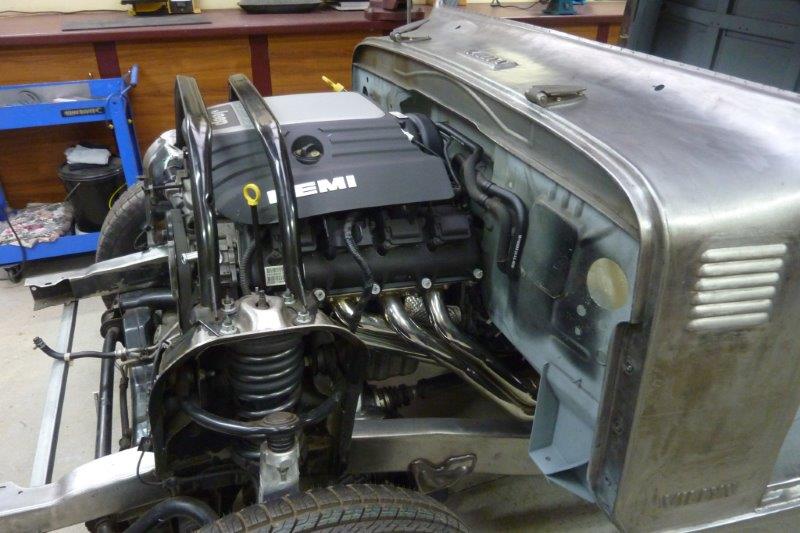 Engine to donor firewall distance is exactly the same as when mounted in the donor.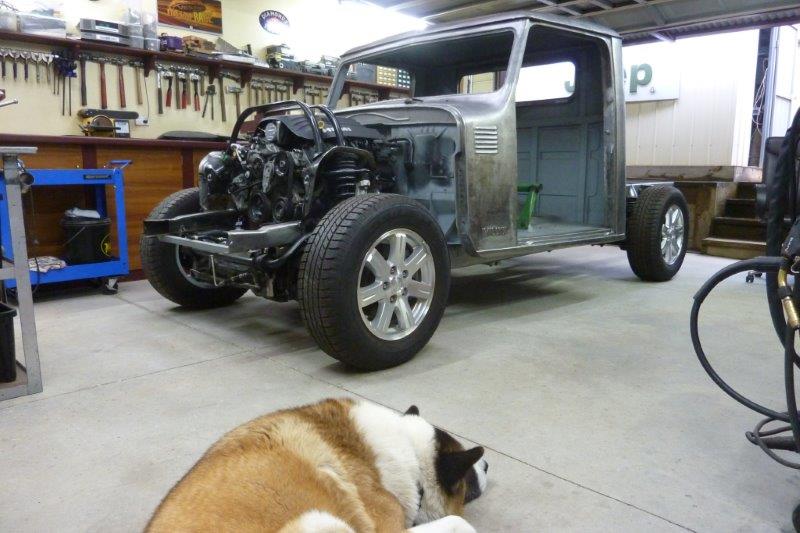 Was great to stand back and see what it looked like for the first time together.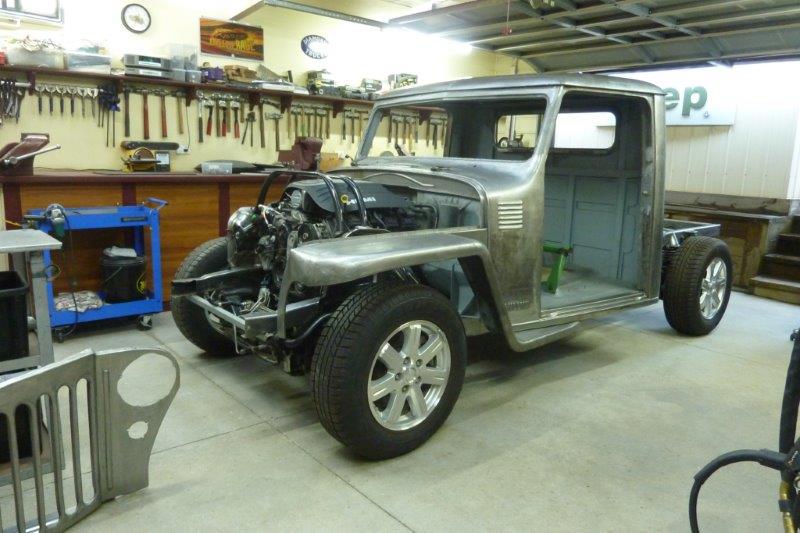 Couldn't help but quickly throw on a guard!